How I Stay Up-To-Date on Type 2 Diabetes
This is a guest post by a good friend of mine Dan Yacovino who is a type 2 diabetic and tech enthusiast. He is looking forward to starting his Venture into Blogging soon. So please let us welcome him and show him some love and give him a lot of feedback on his post.

If you're like me, you are always trying to keep on top of the latest Type 2 Diabetes news and content.
I love reading different people's perspectives, and tricks/techniques that they use to help manage their Type 2 Diabetes. The sheer volume of content that is provided by the many blogs and communities that support us makes it difficult to read everything. What I would like to share are a couple of tricks that I've used to find and read the content that is important to me.
Tip #1 – Setting up Google Alerts
Google Alerts are a great way to not only keep on the newest Type 2 Diabetes news of the day, but also to get exposed to sites that you never knew existed.
The beauty of Google Alerts is that once you set them up, you get all of the great content you desire dropped right into your Gmail account (or whatever mail service you use). If you're not sure how to set up Google Alerts, here are a couple of easy-to-follow steps to get you going
1. Go to www.google.com/alerts
2. Enter a topic that you are interested in into the "Search Query" field (for instance, if you want to receive content about "type 2 diabetes recipes", enter that phrase
3. Choose the frequency of the notifications (I do daily updates because I'm online a lot!)
4. Add your email address
Here is a screen shot of what you will see in your inbox after you have set up your alerts:
What you have now is all of the freshest content about Type 2 Diabetes waiting for you in your inbox.
One tip that I would like to share with those, like myself, that take a medication to help manage their Type 2 Diabetes is to keep an eye on the news for rebates & coupons. For instance, if I took Glumetza, I could add phrases like "glumetza coupon", "glumetza rebate", and "glumetza savings" to my alerts and have any new content that talks about coupons brought to my attention.
Tip #2 – RSS, ifttt.com (If This Then That), & Read It Later:
If you're a regular reader of blogs like "The Poor Diabetic" then I'm sure you're already familiar with RSS feeds, how to subscribe to them, and what they bring to the table. If you're not, here is a video that will give you step-by-step instructions showing how to create a fee reader account (such as Google Reader) and subscribe to your favorite blog's RSS feed.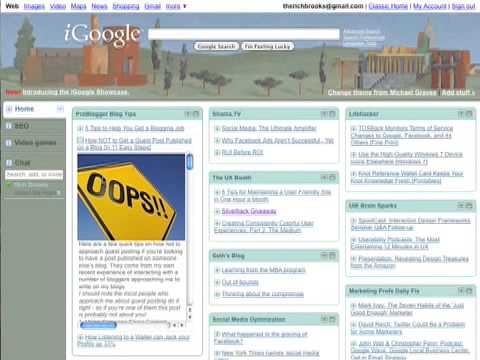 So, it's now time to take your RSS feeds one step further by using your feed/news reader along with the services of ifttt.com and Read it Later.
First, let's start by explaining what each one of these services/apps provides: Ifttt.com:
Which means "if this then that", is a site that allows you to create recipes based on triggers and actions between the different services (such as Gmail & Google reader), apps (such as Read It Later), and platforms (such as Twitter & Facebook) that you participate in or use online. For instance, you could create a recipe that says "when I change my Facebook profile picture" (trigger), "change my Twitter profile picture" (action).This saves you time and makes sure that your content and accounts are always organized.

Read it Later: Is a free app that's been described as "a DVR for the Web". Read it Later is available for virtually any device or platform that you can think of, allowing you access from virtually anywhere. After you register and download the app/toolbar you can then simply right click on any page and save it. The beauty of Read it Later is that you can read these materials both online or offline (with or without internet connection), which means you can read your content whenever & wherever you desire.
With the basics now covered, let me show you how I use RSS (via Google Reader), ifttt.com, and Read it Later together to identify, store, and read my favorite content.
1. Create accounts (if you haven't already) with Google Reader, ifttt.com, and Read it Later.
a. For Read it Later, download the Firefox Add-on or the iphone/ipad app
2. Sign into ifttt.com & activate the Google Reader & Read It Later channels in ifttt.com
a. Go to the channels tab
b. Click on the Google Reader icon & add your account information
c. Click on the Google Reader icon & add your account information

3. Once Google Reader & Read it Later have been activated, go to the "Recipes" tab & search for "Send Google Reader Starred items to Read it Later"
4. Click on the first result
5. Once on the task page, click the "Create Task" button at the bottom of the page
6. Go to your Google Reader account and "star" some of the posts that interest you
7. Go back to your ifttt.com account, click the "Tasks" tab, and then click on the task you just created
8. Click on the "check now" button and all of the posts you starred will be added to your Read It Later account.
a. Once running, the task will check for starred items every 15 minutes & add them to your Read it Later account
9. Go to Firefox add-on you downloaded in step 1 and click the "Go Offline" icon, followed by the "Download Reading List" button
Once these steps have been completed, you can bring the content that you want to read anywhere, and access regardless of having an internet connection. This combination of services has really come in handy when I travel, and the flight that I'm on doesn't have a wifi connection. I feel like I'm never missing any content that I really enjoy, no matter where I'm at in the world.
About the Author
Dan hails from Trenton, NJ. A tech enthusiast, Dan hopes to start his own blog soon combining his love for gadgets with the topic of managing type 2 diabetes.
5 Comments
Trackbacks
About backlinks
SPEAK YOUR MIND